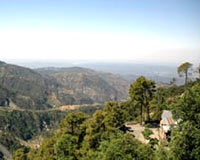 Summer Temperature:
25.5°C (maximum), 15.5°C (minimum)
Winter Temperature:
10°C (maximum), -10°C (minimum)
Annual Rainfall:
214 cm
Best Time to Visit:
Throughout the year
Dalhousie is one of those destinations in India that attract tourists round the year. Except in December and January, when it snows heavily and the chilly breezes freeze you, the place is an all-weather tourist destination. However, after every heavy snow fall, the snow is cleared by army and route becomes operation soon enough. But all in all weather is pleasant enough. While nights are chill and freezing, the daytime sunshine presents a marvelous experience. Just like every other city in India, Dalhousie also goes through three main season, explained in length below.
Summers
Summers, which stretch from April to June, are the best to travel to the place. In this season temperature is moderate and thermometer fluctuates between 25.5°C (maximum) to 15.5°C (minimum). Most of the tourists flock to the hill station in this weather only. When rest of India experiences hot and humid weather, Dalhousie is pleasant and cool. Thus, people who want some respite from merciless hot temperature opt for the city.
Winters
The winters in Dalhousie last from November to February and are quite severe. Being located at a high altitude, the temperature goes into minus in winters and snow fall is experienced during the months of December and January. Hotels provide hefty discounts to travelers in the winters, which is another added advantage for who come here in the chilly season.
Monsoons
The monsoon season in Dalhousie lasts from June to September. Including the monsoons, the place receives an annual rain fall of 214 cm. After every rain, mountains give clean and shining semblance and become the most scenic. Monsoon season gives the best opportunity for newly married couples to go for honeymoon as weather becomes extremely romantic.