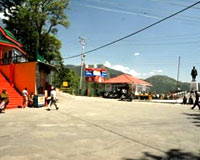 Dalhousie, a hill destination of India, is quite popular among travelers. The city, with its green landscape, snow covered valleys, European architecture and vintage building, still retains its old charm. Life away from the pace of modern metros gives an out of the world experience to travelers. Tourists from all across the world flock to Dalhousie during summer season, when weather in the plains of India is hot and humid. The place provides best escape for traveler with its cool and quiet. In the following lines, we acquaint you with the various tourist attractions in Dalhousie
Churches
Dalhousie is as much known for its architectural splendor as natural beauty. Serving as a proof of the historical past of the hill station are four beautiful churches. These include St. Andrew's Church and St. Patrick's Church at Balun, St. Francis Church at Subhash Chowk and St. John's Church at Gandhi Chowk. Each one of them is definitely worth having a look at.
Subhash Baoli
Subhash Baoli is located 1 kilometer from Dalhousie. The nomenclature of the place is on the name of Subhash Chandra Bose, the famous freedom fighter of India. Located in the midst of dense forest, with huge towering trees and tranquil atmosphere, this baoli has become one of the most popular tourist spots in Dalhousie. Here, tourists can sit and enjoy the natural panorama of the overlooking hills.
Panchpula
Panchpula is situated at a distance of 3 km from the hub of the city of Dalhousie. Satdhara springs, which find their source in Dayankunda, form the major attraction of the place. Situated nearby is the memorial monument of Sardar Ajit Singh, which takes one back to the freedom struggle by Indians against British. Then, there is a restaurant built by State Tourism Department, which provides an excellent hangout.
Kalatope
Located 5 kilometers from Dalhousie, Kalatope is sited amidst hill and forest. At the altitude of 8000 feet, the place is surely a trekkers' paradise. Its trekking route takes you to Lakkarmandi, from where the Dyan Kund is easily visible. Natural lovers and wild life enthusiasts can go to Kalatope Wildlife Sancuary, where Ghoral and Black Deer are kept. Near the sanctuary is Kalatope forest, which is sure to excite nature lovers.
Bakrota Hills
Situated 4.8 km from Dalhousie are Bakrota Hills, surrounded by the thick forest of Devdar trees. At the altitude of 2085 meters, with snow-clad peaks, the hills give trekkers a fascinating experience. The magic of thick forests of Devdar and white snow do not leave any traveler unhooked. In fact, the greenery and quiet at the place refreshes the traveler and gives them a life time experience. During daytime, the hide and seek of the sunshine leaves you completely enchanted.
Satdhara
Satdhara, at the altitude of 2036 m, derives its name from the seven beautiful springs. It is scenic place with tranquil and quiet atmosphere, pleasant weather and scenic surroundings. The place falls on the way to Panchpula and is popular sightseeing destinations. The seven springs here are believed to have therapeutic effect. The water in these springs contains mica and is said to cure various diseases.
Khajjiar
Situated at a distance of approximately 22 kilometers from the Dalhousie is the popular picnic spot of Khajjiar. This scenic place has a small glacial lake in the centre, surrounded by dense forest and mountains from all side. One of the most popular picnic spots in and around Dalhousie, Khajjiar derives its name from the temple of Khaji Nag, situated nearby.