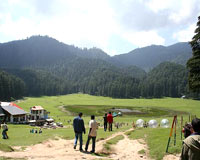 The pride of Himachal Pradesh, Dalhousie is spread over five low level hills. Wide-spread lush green plains and snow covered hills and valleys give this colonial town marvelous ambience. With its British mansions standing as tall as ever, the place still takes tourist back into the colonial era. The architecture of the buildings and churches as well as the over-all design Dalhousie brings back the memories of the time when India was still under British occupation. Apart from the architectural splendor, the town is also known for its exquisite natural beauty.
The slopes covered with pine and small trails seen here are ideal for taking a walk. Covering the area of around 14 sq km and perched amidst five hills of Kathlog, Potreyn, Balun, Tehra and Bakrots, this hill station derives its name from British Governor General of the 19th century, Lord Dalhousie. The altitude of the hill station ranges between 1,525 -2,378 meters, amidst luxurious vegetation of oaks, deodars, pines, etc.
Panoramic view of the valley, enabled by river Ravi's snake-like twists and turns, is worth seeing. The magnificent Dhauladhar Mountain that stands wrapped with snow further adds to Dalhousie's splendor. The places in the hill resort that are worth visiting include Jandhri Ghat, known for housing some lovely streams and being a popular picnic spot. Lakshminarayan temple forms the other major attraction, along with Bhuri Singh Museum and Chamba Chaugan.
St. Francis Church in Dalhousie is known for its magnificent architecture, displaying European influence in its design. Being such a beautiful place, the hill resort has become a favorite amongst the honeymooners. It can be reached by air besides road, nearest airport being Kangra that is 140 km away. Dalhousie houses varied accommodation options, right from luxury hotels to economy class and budget ones.