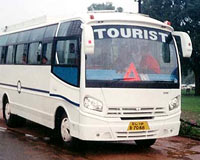 Dalhousie, though a small hill station, has excellent transportation system and can be reached quite easily, from most of the key cities in India. Since it is a popular tourist destination in Himachal Pradesh, the government has made sure to provide it with good connectivity. Pathankot serves as the major gateway to Dalhousie, especially for tourists who come here by train. The hill resort is well connected with cities like Bangalore, Mumbai, Chennai, Kolkata and Delhi, by air, rail as well as road. Read on to know how to reach Dalhousie.
By Air
The nearest airport from Dalhousie is Gaggal, in Kangra district, 135 kilometers away at. Other than Gaggal, the airports at Jammu and Amritsar are the other options available. Air service from these airports is regular and ticket rates are fixed keeping the tourists in mind. After getting down at these airports, you can board taxis for reaching Dalhousie. These taxis take you to the hill station with comfort and swiftness.
By Rail
Tourists who want to visit Dalhousie with reasonable budget can avail train services available traveling there. Pathankot, being the nearest railway station, serves as the gateway to Dalhousie. It has regular trains to all the major metros, like Mumbai, New Delhi, Bangalore, Kolkata and Chennai. Tourists who get down at Pathankot have to board taxis or buses for reaching Dalhousie.
By Road
Dalhousie, being a popular tourist destination, attracts lots of attention from Government. Governmental effort has made sure that the place has state of the art roads. Dalhousie can be easily reached from the cities of Pathankot (80km), Dharmashala (145km), Chamba (50km), Amritsar (190km), Katra (235km), Shimla (400km), Manali (360km) and Palampur(176km), by availing of the frequent taxi and bus services.